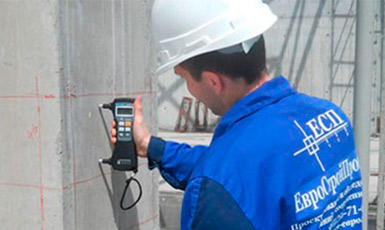 We at Evrostroyproect provide detailed design services within a wide range of building types, such as:
industrial buildings (metallurgical process plants, agricultural raw materials processing facilities, mechanical engineering institutions and so on);
MRI and CT scanner rooms, hypobaric chambers, surgery units and outpatient hospital units;
canteens, cafés and restaurants;
kindergartens, sports facilities, schools, sanatoriums, hotels and laundry rooms;
office buildings and business centres;
car dealership centres and automobile workshops;
testing and training laboratories;
mechanical (boiler) rooms, chimneys, heating network systems.
Our specialists are able to carry out elemental investigations of building and structures, including measuring and surveying, in order to evaluate the technical state of the construction, including inspection prior to alterations and renovations, using our own equipment.
In order to restore project documentation and make measurements of building structure, MEP or equipment, reverse engineering is performed by our team, even in a hazardous facilities environment.
Building Information Models are produced according to regulating documents and can be modified to meet the customer's needs, providing:
a defined level of detail (LOD100…LOD400;
3D, 4D, 5D, 6D format, adding time-related information, project economic value and project lifecycle information;
usage on different stages of project lifespan – design, construction and operating.
Our laser scanning services could help you with building and structure modeling, as well as creating a mesh. This could be useful while working with monuments and statues, factories and plants with complex equipment, communication towers and so on.